Outdoor kiosks for Madurodam
Donnerstag 26 September 2019
Prestop has developed a child-friendly outdoor kiosk with 22" touch screen for Madurodam, and now there are 10 of these kiosks spread throughout the park. Children can easily watch videos and answer questions on each outdoor kiosk, the touch screen is not as high as usual.
On sunny days, the high-brightness touch screen (Nits 1600) ensure the image is clearly visible. We have built in the RFID reader and speakers on the front. The RFID reader scans the pass and activates the video or quiz on the screen, and the sound of the videos is clearly audible with the speakers. To protect the outside kiosk against corrosion, it is treated with an additional primer.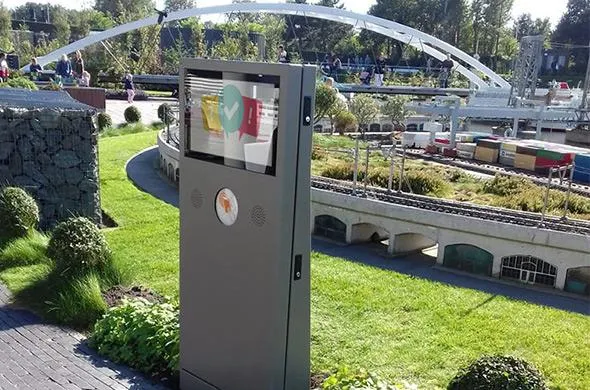 Besuchen Sie jetzt

unser interaktives Erlebniszentrum.
Prestop verfügt über das größte interaktive Erlebniszentrum in Europa. Sie sind herzlich eingeladen, unseren Showroom am Ekkersrijt 4611 in Son en Breugel zu besuchen, wo wir Ihnen alle unsere Lösungen zeigen können.
Sie bevorzugen Online? Unsere Spezialisten führen Sie gerne mit dem iPhone und Zoom durch unser Interactive Experience Center. Es werden Live-Bilder gezeigt, und Sie können direkt von zu Hause/vom Arbeitsplatz aus Fragen stellen. Buchen Sie jetzt einen Termin: